Sponsored Listing
1509 Austin Ave., Waco, TX
Looking to shop with the option of snacking? Want to meet for lunch and a maybe pick up the perfect birthday/wedding gift? Just looking for a well-prepared and satisfying meal? The Sironia Cafe provides the ideal setting for all of the above. The Sironia ...
Smashburger set to arrive in the spring
Written by Chad Conine on Wednesday, October 17, 2012 in Latest News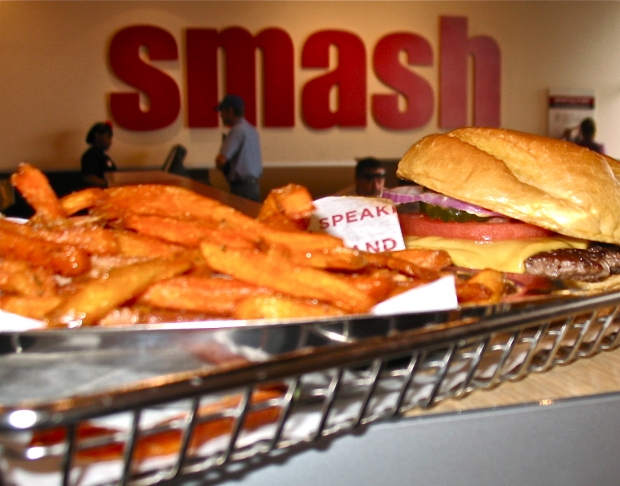 Here's what we know: Smashburger and Mama Fu's are coming to the new shopping center that's under construction on Valley Mills Drive diagonally across the Valley Mills-Wooded Acres intersection from McDonald's and Chipotle.
Here's what we've heard: According to Smashburger regional manager Brad Brown, the shell for the building that will be Smashburger is slated to be finished around February 1. If that's the case, it will probably take the company six to eight weeks to outfit the space and train its staff, putting the opening of the new burger restaurant possibly at the end of March or early April.
Earlier this year, Brown said he hoped to have a Waco restaurant open by the end of 2012. We've seen it before, though, that construction projects happen on their own time. Patience is a virtue. For the record, I'm excited about the arrival of Smashburger, whenever that will be.
Here's what we're still trying to figure out: I made a trip to a Mama Fu's in Georgetown this week, sort of a scouting mission. The staff there said the Mama Fu's rumor mill had the Waco restaurant's opening being moved up from December. Moved up? I asked, thinking certainly they had mixed up the verbiage, saying "moved up" when the meant "moved back." But the Mama Fu's staff member reasserted that he meant moved up and the restaurant could open in November.
Given my conversation with Brown, I again think that Mama Fu's opening has actually been moved back from December.
One more bite: We'll have more info on Mama Fu's, including a semi review of a my trip to the restaurant in Georgetown coming next week.
Blog Categories
Sign in with Facebook
User your facebook login to become a member of this site.
Login With Facebook