So that, in the picture there, is slow-braised short rib over pasta at DiamondBacks. It was delicious and it was free and this is not a humble brag. It's just a straight ahead brag.
Actually, to take the obnoxiousness one step farther over the line, the DiamondBacks foks — specifically owner Michael Kornman and media consultant Mark Brinkerhoff — invited us out to taste some of their new menu items and talk about the new/classic aesthetic of Waco's most prestigious steakhouse. Along with the short rib, we also scarfed down the following new items:
sesame-seared tuna tostada

a chophouse onion ring tower

tenderloin trio, featuring some of the tastiest bites of steak smothered in bernaise, green peppercorn sauce or red win demi glace, along with garlic mashed potatoes

chicken-fried venison'
And then dessert, but they were the traditional favorites — molten chocolate lava cake, red velvet bomb and, of course, the chocolate sack. See how I was all nonchalant about the desserts? That's called acting like you've been there before.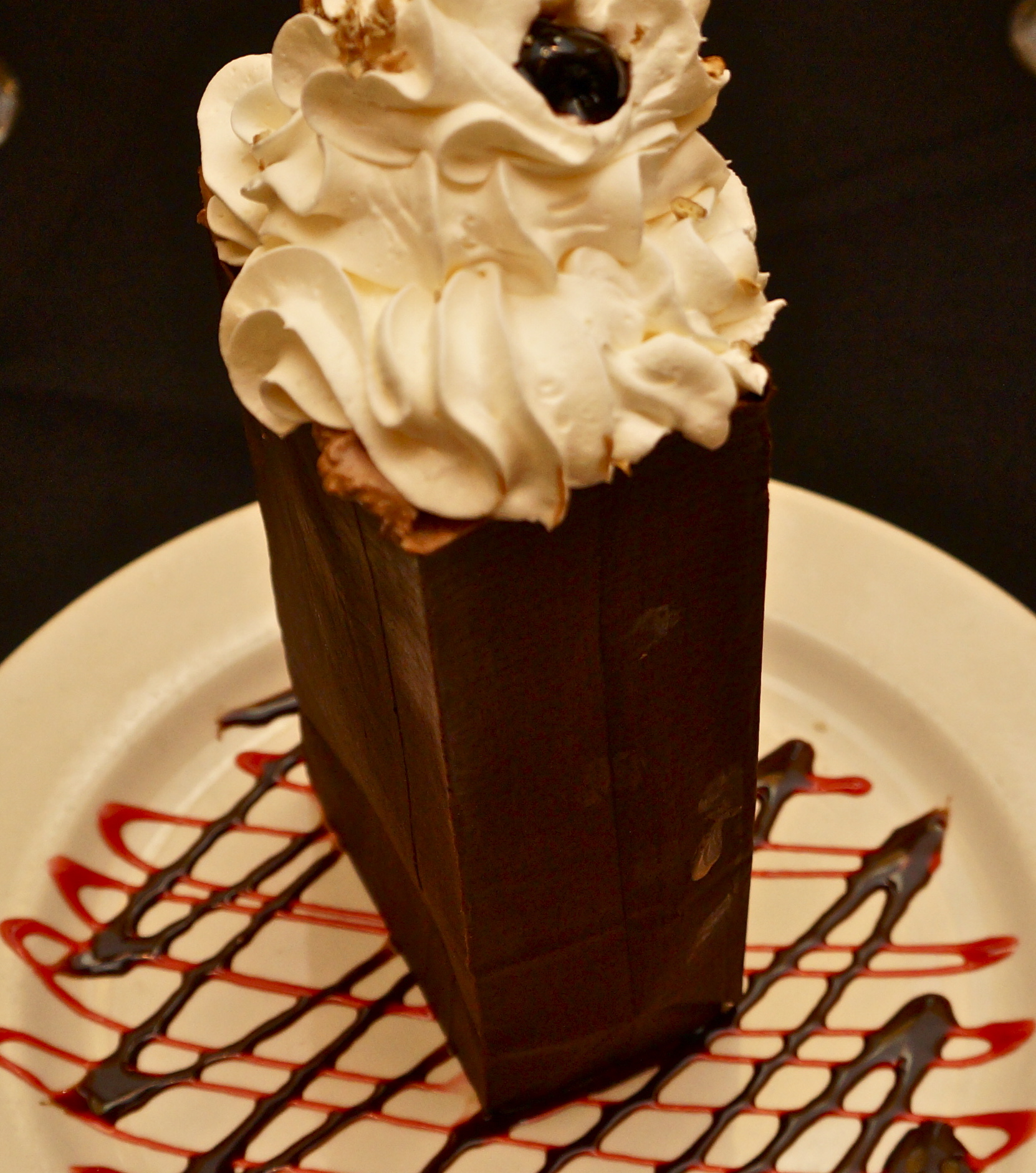 (But I can't resisit adding a photo of said chocolate sack.)
With everything going on in town, I was anxious to quiz Kornman on DiamondBacks' expectations and positioning. I fired off questions about next weekend's expected extravaganza and the possibility of a DiamondBacks steak or chocolate sack truck (for the record, those things are not on the table; just my fantasizing). Kornman's reply was even-handed and deliberate: DiamondBacks is focused on providing an excellent experience for its patrons in a sophisticated, comfortable envirnoment no matter what is happening in town. Yeah they're going to get a bump next weekend and on hyped occasions, especially in the new party facility, The Hall. But they want to be just as on their "A" game in the middle of June when the summer lull is at its deepest.
I mentioned earlier DiamondBacks has updated its menu and its interior. They didn't change much, but have placed some new landscape photos by local photographer Lauren Logan with frames from reclaimed wood by another local artist, Gary Baise.
The takeaway, though, was that DiamondBacks doesn't want to mess with a proven strategy. Simply great seemed to be a theme, so much so that Kornman put his favorite menu item, DiamondBacks' chicken parmesan, on the menu for the media dinner. Kornman admitted its an unusual choice for a steakhouse, but he said te combination of free range chicken and their recipe for breading and presentation set is apart.
Yeah, agreed.
One more bite: Thanks to WacoFork's new team member Melissa Whisnant for attending with me. And I can't post this blog without thanking Ray Small, possibly the best server in town, for taking great care of us.