Sponsored Listing
1509 Austin Ave., Waco, TX
Looking to shop with the option of snacking? Want to meet for lunch and a maybe pick up the perfect birthday/wedding gift? Just looking for a well-prepared and satisfying meal? The Sironia Cafe provides the ideal setting for all of the above. The Sironia ...
This is an Olympic headline with no puns
Written by Chad Conine on Tuesday, July 17, 2012 in Around Town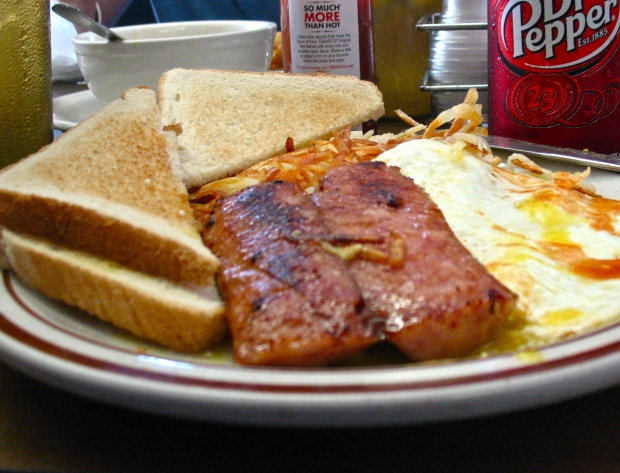 Thanks to my friend Toph Whisnant for buying my lunch today at Olympic Family Restaurant.
I met a group for lunch at Olympic and wondered on the way if it would be a cash-only establishment. Sure enough, the sign on the door indicated no checks or credit cards. Whisnant, who helped to organize this Tuesday lunch group I join, astutely brought $50 cash to cover anyone who didn't have cash.
He said he's charging 8.9 percent interest compounded hourly on his lunch loan, so I guess he's going to make out pretty well on that decision to bring $50 cash. I wonder if he will send my account to collection if I don't pay him right away. Toph is actually going to London for the Olympics (coincidence) in a couple of weeks, so maybe this is how he's financing the trip.
Oh, you might be wondering why there's a picture of breakfast food with this blog. Olympic serves breakfast all day. Big plus. When I learned this fact, I went straight for the breakfast portion of the menu.
Kielbasa with hash browns and eggs over easy with a Dr Pepper. Heck yeah!
This was my first trip to Olympic, which sort of explains why I didn't know it was cash-only. I'm pretty happy the lunch group chose it because I look forward to adding restaurants to my personal catalogue. I wonder how many years I'll have to write this blog before I've dined at every restaurant in town. Is it even possible?
One more bite: On a separate note, I found Taqueria El Crucero closed for breakfast this morning due to temporary air conditioning issues. But I also stumbled upon something very intriguing and possibly a Waco game-changer. There was a big green food trailer parked next to the restaurant. Is this the Crucero food truck? When will it launch? More on this story as it develops.
Blog Categories
Sign in with Facebook
User your facebook login to become a member of this site.
Login With Facebook